La gobernanza como modo emergente de gobierno y gestión pública
Palabras clave:
Gobernanza, gestión de redes, Administración pública
Resumen
Si la acción de gobierno era considerada tradicionalmente el núcleo central de la política por su capacidad indiscutida para afrontar los problemas sociales, en la actualidad la política se expresa cada vez más en términos de gobernanza.
Hasta hace poco más una década el vocablo «gobernanza»  governance se utilizaba precisamente como sinónimoacción de gobierno o de dirección política. Sin embargo, su nuevo atractivo -y la correspondiente extensión semántica- se debe en gran medida a que se ha revelado como una categoría útil para analizar, desde nuevas perspectivas teóricas y metodológicas, la totalidad de instituciones, actores y relaciones implicadas en los procesos de gobierno y de gestión pública, vinculando en un sentido mucho más amplio e integrador el sistema político con su entorno económico y social.
Descargas
Los datos de descargas todavía no están disponibles.
Citas
Agranoff, R. y Mcguire, M. (2003), Collaborative Public Management: New Strategies for Local Governments. Washington: Georgetown University Press.
Aguilar Villanueva, L. F. (2007), Gobernanza y Gestión Pública. México: Fondo de Cultura Económica.
Atkinson, M. y Coleman, W. D. (1989), «Strong States and Wake States: Sectorial Policy Networks in advanced capitalist economies», British Journal of Political Science 19:1.
Blanco, I. y Goma, R. (2002), Gobiernos locales y redes participativas. Barcelona: Ariel.
Bovaird, T. y Löffler, E., eds., (2003), Public Management and Governance. Londres: Routledge.
Bulmer, S. (1994), «The Governance of the European Union: a New Institutionalist Approach», Journal of Public Policy 13.
Campbell, J. C.L. Hollingstworth, J. R. y Lindberg, L. N. (1990), The Governance of the American Economy. Cambridge: Cambridge University Press.
Cerrillo, A., comp., (2005), La gobernanza hoy: 10 textos de referencia. Madrid: INAP.
Gore, A. (1995), Gobernar con criterio empresarial. Madrid: INAP.
Haas, P. M. (1992), «Introduction: Epistemic Communities and International Policy Coordination», International Organization 46.
Heclo, H. (1978), «Issue Networks and the Executive Stablishment» en A. King, ed., The New American Political System. Washington: American Enterprise Institute.
Heclo, H. y Wildavsky, A. (1974), The Private Government of Public Money. Londres: Macmillan. Hirschman, A. (1991), The Rhetoric of Reaction. Cambridge: Harvard University Press.
Hollingsworth, R., Lindberg, L. N. y Campbell, J. C. L. (1991), The Governance of the American Economy. Cambridge: Cambridge University Press.
Hood, C. (1991), «A Public Management for All Seasons?», Public Administration 69.
Jordan, G. (1981), «Iron Triangles, Woolly Corporatism and Elastic Nets: Images of the Policy Process», Journal of Public Policy 1.
KIckert, W. J. M. y Koppenjan, J.F., comps., (1998), Managing Complex Networks. Londres: Sage.
Kingdon, J. W. (1995), Agendas, Alternatives, and Public Policies. Nueva York: Harper Collins College Publishers.
Klijn, E. (1996), «Analyzing and Managing Policy Processes in Complex Networks: A Theoretical Examination of the Concept Policy Network and Its Problems», Administration and Society 28 (1).
Kooiman, J. ed., (1993), Modern Governance: New Government-Society Relations. Londres: Sage.
Kooiman, J. y Van Vliet, M. (1993), «Governance and Public Management», en Eliassen, K. y Kooiman, J. eds., Managing Public Organisations. Londres: Sage.
Lindt, M. (1992), «The Catalitic State», National Interest 27.
Mandell, M. comp., (2001), Getting Results through Collaboration: Networks and Network Structures for Public Policy and Management. Westport: Quorum Books.
Marsh, D. (1998), «The Development of the Policy Network Approach», en D. Marsh, ed., Comparing Policy Networks. Buckingham: Open University Press.
Marsh, D. y Rhodes, R. (1992), Policy Networks in British Government. Oxford: Clarendon Press. Mayntz, R. (2000), «Nuevos desafíos de la teoría de 'governance'», Instituciones y Desarrollo 7.
Mayntz, R. (2001), «El Estado y la sociedad civil en la gobernanza moderna», Reforma y Democracia 21.
Metcalfe, L. (1995), «La Comisión Europea como una organización-red», Gestión y Análisis de Políticas Públicas 4.
Natera, A. (2005), «El factor liderazgo en la gestión de redes de gobernanza», en A. Natera y F. J. Vanaclocha, dirs., Los liderazgos en el mercado político y la gestión pública. Madrid: Boletín Oficial del Estado y Universidad Carlos III de Madrid.
Osborne, D. y Gaebler, T. (1994), La reinvención del gobierno. Barcelona: Paidós.
Peters, B. G. y Pierre, J. (2000), Governance, Politics and the State. Londres: MacMillan Press LTD.
Peters, B. G. (1998), «Globalization, Institutions and Governance», Papers del European University Institute, Jean Monnet Chair Paper RSC 98/51.
Prats, J. (2005), De la Burocracia al Management, Del Management a la Gobernanza. Las transformaciones de las Administraciones públicas de nuestro tiempo. Madrid: INAP.
Putnam, R.D. (1993), Making Democracy Work: Civic Traditions in Modern Italy. Princeton: Princeton University Press.
Rhodes, R. A. W. (1996), «The New Governance: Governing Without Government», Political Studies 44.
Rhodes, R. A. W. (1997), Understanding Governance: Policy Networks, Governance Reflexivity and Accountability. Buckingham: Open University Press.
Rosenau, J. N. y Czempiel, E. O. (1992), Governance without Government. Cambridge: Cambridge University Press.
Sabatier, P. A. (1999), Theories of the Policy Process. Oxford: Westview Press.
Stoker, G. (1998), «El buen gobierno como teoría: cinco propuestas», Revista Internacional de Ciencias Sociales 155.
Van Waarden, F. (1992), «Dimensions and Types of Policy Networks», European Journal of Political Research 21.
Williamson, O. E. (1996), The Mechanisms of Governance. Oxford y Nueva York: Oxford University Press.
Zurbriggen, C. (2004), «Las redes de políticas públicas. Una revisión teórica», Colección de Documentos. Institut Internacional de Governabilitat de Catalunya.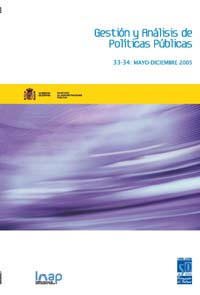 Cómo citar
Natera Peral, A. (2005). La gobernanza como modo emergente de gobierno y gestión pública. Gestión Y Análisis De Políticas Públicas, (33-34), 53-65. https://doi.org/10.24965/gapp.vi33-34.391
Sección
ARTÍCULO DE REVISIÓN